Warlords are coming? I've taken a nice little break from WoW once we downed Garrosh. With Warlords of Draenor in beta stages now I'm back in the game with a renewed vigor. The break did me good since I was starting to hit that burn out phase. We lost some of our raid team along the way and it took a combined effort of both raid teams to make the Garrosh kill the first time. He's down. I wore my AQ set for the occasion, honoring the bugs of course. I even turned on my helm graphic for each Paragon kill.
Posting a couple sets I've done recently. I'll update them later with resources but most of the fun is the pictures anyway right? The first is my red and black. I wasn't a fan of the PvP paladin plate set the last couple seasons although I did like the red accents. I replaced a few pieces with Dragon Soul warrior tier look alikes. And of course used Ashkandi. That sword really is like candy! It's a very nice huge sword, even for a Blood Elf. Add in the fact it's cool looking and red and you can't beat it.
Since I've already mentioned the PvP thing, the picture below really tells you why I ventured back into PvP. I think the last time I did serious PvP is when my warrior Pyckles was a level 35 twink. I had enjoyed getting the Sergeant title on her at level 28. Well I took at look at the PVP mount and decided "I need that!" So I went out and got it by running RBGs. Rated battle grounds for those of you who are PvE junkies. I have a soft sport for equine mounts, even if or especially when they have glowing green hooves.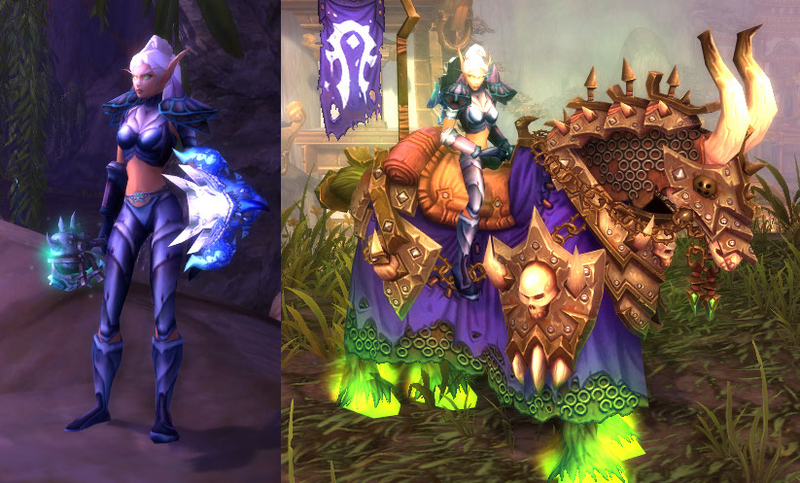 And of course my PvP transmog. I went Holy instead of Retribution. I don't think I even transmogged my prideful weapon once I acquired it. It's based on the Hydralik check and Ornate Mithril pieces. Thanks again to my favorite Balcksmith Gygan.
I've been running around in Warlords beta and for now I'll leave my opinion of how they're doing out of my post and stick to the relevant info like what's new to transmog. And sadly...there is little in the way of color so far. More dull gray. Yech. Some of the NPCs are sporting some pretty stuff though! I'll be compiling some screenshots this week and will have some sets ready. One good thing to note for the gnomes who trasnmog, your mid section no longer disappears. Yay for new character models!